About

Mission Church is a community minded Christian church that intentionally adheres to the historic Christian faith and gospel while engaging with people of different viewpoints, the neighborhoods and city we live and work within, and those who have been hurt by the church. Worship is held on Sunday evenings at 4:30pm and dinner is served afterward. Show up the way you'd show up to grab dinner with friends here in Tucson, that's what the rest of us do.
Learn more about the Arroyo Chico Neighborhood Mural
Check out our Mission Church Tour

Remember Copper Country Antiques??
To attend — No Prerequisite
Our sincere desire is that all feel welcome to attend Mission Church, and there is no prerequisite of faith or appearance.
To fully participate — Apostle's Creed
We ask that those who attend and desire to partake of the Lord's Supper and so affirm the Christian faith, agree with us in the simple doctrines of the Apostles Creed. This Creed was not produced by the apostles themselves, but it is an excellent summary of their teachings and an accurate description of the doctrine of the early Church. It is dated no later than the fourth century in its present form.
I believe in God, the Father almighty, creator of heaven and earth. I believe in Jesus Christ, his only Son, our Lord, who was conceived by the Holy Spirit and born of the virgin Mary. He suffered under Pontius Pilate, was crucified, died, and was buried; he descended to hell. The third day he rose again from the dead. He ascended to heaven and is seated at the right hand of God the Father almighty. From there he will come to judge the living and the dead. I believe in the Holy Spirit, the holy catholic* church, the communion of saints, the forgiveness of sins, the resurrection of the body, and the life everlasting. Amen.
*that is, the true Christian church of all times and all places
---
When We Gather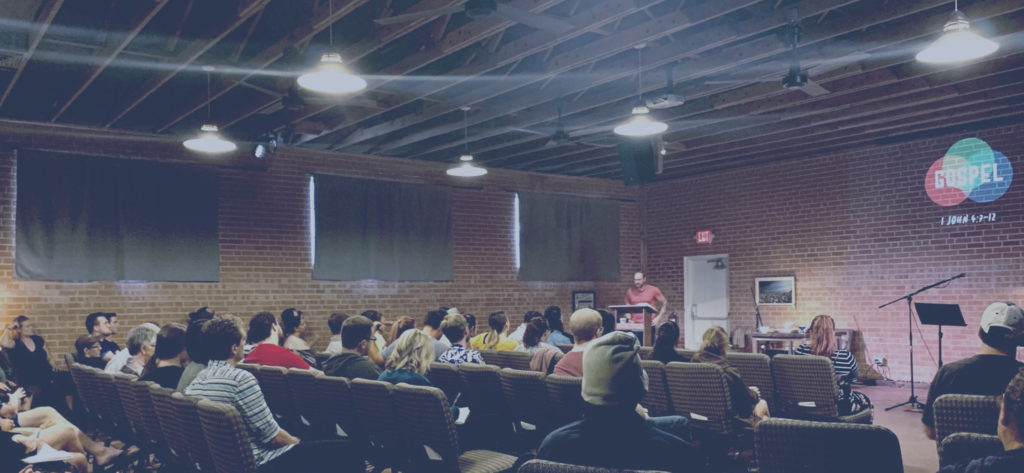 Sunday Gathering
Sunday night service – 4:30pm to 6:15pm (community meal afterward). Coffee and Conversation (before church), Worship, Teaching through the Bible, and the Lord's Supper. Followed by a community meal. (DUE TO COVID19 OUR GATHERING SIZE IS LIMITED AND OUR SERVICE IS ALSO HELD ON ZOOM @ 4:30 SUNDAYS – Email admin@missionchurchtucson.com for the current status or to RSVP)
Sunday Kids Lesson
Nursery Available for ages 0-2 Kids Lesson Available for ages 3-7
(DUE TO COVID19 WE HAVE ONE KIDS ROOM ONLY AND ARE TAKING CDC RECOMMENDED PRECAUTIONS TO KEEP YOUR KIDS SAFE)
We love having kids around! We also believe that kids are shaped in their faith by their families and the people of the church, and we don't want to section them off from participating in worship with the rest of us. That said, we know that it can be tough for adults to tune in to the sermon while helping their child stay focused. We are totally supportive of families who desire to keep their kids by their side, but we also provide a kids lesson during the bulk of the service for those who would prefer that.
Please arrive a little early and look for one of our kids workers just inside the front door with an iPad, and they'll get your kids checked in and ready to enter the rooms after the music. For more info contact John – john@missionchurchtucson.com
Small Groups
Many people at Mission are in small groups that meet in homes throughout the week. These groups spend time catching up and checking in, in prayer, and in a short study from the Bible or a Christian book. To get into a small group, inquire at a church service or to admin@missionchurchtucson.com and we'll introduce you to a leader near you.
Youth Small Group – We also now have a small group of middle school students that meets on Saturday evenings in a home. Email john@missionchurchtucson.com for more info.
---
Community and Faith Partnerships
The Gospel Coalition
The Surge Network
Resonate Global Mission / Christian Reformed Church
Local / Global Missionary Initiatives
Sunshine Mile Business Association
People Sent by Mission for Funded Ministry
Bridget Gee – InterVarsity
John Brewer – Republic of Georgia
Sam and Alyx Burns – Mission Aviation
Morgan Warlick – Beauty From Ashes – Ministry to Abused Women in Utah
---
Leadership